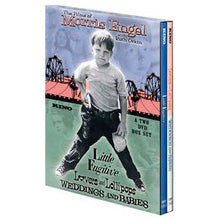 The Films of Morris Engel DVD
$39.95

$39.95

Item # 27419
---
---
(with Ruth Orkin)
Little Fugitive, Lovers and Lolipops, and Wdddings and Babies
A NEW 2 DISC THIN PACK BOX SET
Morris Engel's All-American Classic
LITTLE FUGITIVE
WINNER
Silver Lion, 1953 -Venice Film Festival
Academy Award™ Nominee, Best Motion Picture Story
Inducted in 1997 to the NATIONAL FILM REGISTRY by the Library of Congress and the National Film Preservation Board
Widely regarded as one of the most influential and enjoyable films of the American independent cinema, Little Fugitive is an utterly charming fable that poetically captures the joys and wonders of childhood.
When a seven-year-old boy (Richie Andrusco) is tricked into believing he killed his older brother, he gathers his meager possessions and flees to New York's nether wonderland: Coney Island. Upon and beneath the crowded boardwalk, Joey experiences a day and night filled with adventures and mysteries, resulting in a film that is refreshingly spontaneous and thoroughly delightful.
Hailed by critics as a groundbreaking cinematic feat, Little Fugitive won the Silver Lion at the Venice Film Festival, played in nearly 5,000 theatres in the U.S. and is now recognized as a classic of American independent film.
SPECIAL FEATURES
Feature-length Audio Commentary by Morris Engel
Two Documentary Films by Mary Engel:

Morris Engel: The Independent (2007, 28 min)
Ruth Orkin: Frames of Life (1995, 18 min.)

Theatrical Trailer
Image Gallery
Remastered from a New High-Definition Transfer
1953 US 80 min. B&W
Original Aspect Ratio (1.33:1)
LITTLE FUGITIVE
Starring RICHIE ANDRUSCO and RICKY BREWSTER
Music by EDDY MANSON
Photographed by MORRIS ENGEL
Produced by MORRIS ENGEL and RAY ASHLEY
Written and Directed by
MORRIS ENGEL, RUTH ORKIN and RAY ASHLEY
© 1953 Little Fugitive Productions Co.
© Renewed 1981 Little Fugitive Productions Co.

LOVERS AND LOLLIPOPS
A Film by Morris Engel and Ruth Orkin
A follow-up to the hugely successful Little Fugitive, Lovers and Lollipops is the enchanting tale of a seven-year-old girl's reaction to her mom's new boyfriend.
When an attractive widow begins seeing an old friend, her daughter Peggy (Cathy Dunn) feels their relationship threatened. Though not always intentionally, Peggy responds by thwarting the romance that is blossoming between the two adults.
Shot on location among the landmarks of New York City — the Central Park Zoo, Macy's Toy Department, the Statue of Liberty and Chinatown — Lovers and Lollipops is a lyrical ode to the resilience of love and the charms of youth.
1955 US B&W Letterboxed (1.85:1) Enhanced for 16x9 TVs
Newly remastered for DVD
LOVERS AND LOLLIPOPS
Starring LORI MARCH, GERALD O'LOUGHLIN and CATHY DUNN
Music by EDDY MANSON
Photographed by MORRIS ENGEL
Written, Produced and Directed by MORRIS ENGEL and RUTH ORKIN
© 1955 Spire Production Company
Viveca Lindfors
John Myhers
WEDDINGS AND BABIES
A Film by Morris Engel
A work of artistic finesse and great emotional candor, Morris Engel's Weddings and Babies is a bittersweet tale of love, hope and sacrifice, staged to perfection amid the sidewalks and storefront apartments of New York's Little Italy.
Viveca Lindfors stars as Bea, a Swedish-born woman who yearns to begin a family with her photographer boyfriend Al. But the two things to which Al has devoted his career — weddings and babies — are the very things he cannot make room for in his life. The unexpected appearance of Al's aging mother, evicted from a boarding house, only intensifies his familial confusion, and Bea must decide whether to wait for Al or seek happiness elsewhere.
With its verite visual style and naturalistic performances (owing to Engel's background as a photojournalist in New York City), Weddings and Babies bore a profound influence on the independent cinema of the 1960's.
1958 US 81 min. B&W Letterboxed (1.66:1)
Newly remastered for DVD
WEDDINGS AND BABIES
Starring VIVECA LINDFORS and JOHN MYHERS
Music by EDDY MANSON
Written, Produced, Photographed and Directed by MORRIS ENGEL
© 1958 The Wedding Company
© Renewed 1986 The Wedding Company
---
We Also Recommend